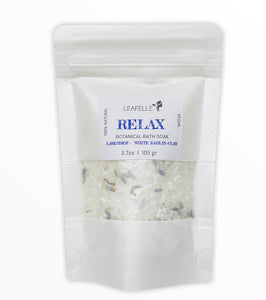 The perfect addition to your bathing ritual. Relax, soothe and soak tired muscles with our beautiful Botanical Bath Soak - RELAX. Made with natural mineral rich sea salt, epsom salt, lavender buds, white clay and pure lavender essential oil. 
✓ 100% Natural
✓ Vegan 
✓ Free from synthetic, artificial colors and fragrances 
✓ Soothes dry or irritated skin with deep hydration
Benefits: Lavender essential oil brings deep relaxation, calming emotional anxiety, improves sleep quality and is believed to treat fungal infections, allergies, depression,  eczema, nausea, and menstrual cramps. 
105 grams of bath soak is good for about 1 to 2 baths.
To use, simply add 1/2 of a bag to your bath, hop in and enjoy!