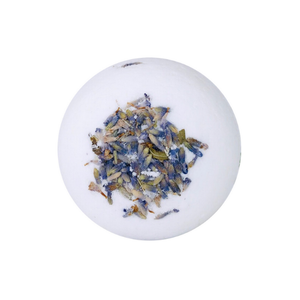 This Natural Bath Bomb is formulated to sooth and moisturize your skin while releasing the aromatherapy benefits of pure lavender essential oils for a luxurious at-home spa experience.
For your Soul: Lavender essential oil brings deep relaxation, calming emotional anxiety, reducing mental stress and improves mood & sleep quality. Improves focus, energy, and vitality.
 For your Skin: Lavender oil soothes eczema and dry skin, it also has antifungal properties and reduces inflammation. The lavender oil helps cleanse your skin and lessen redness and irritation. Your skin will be glowing and feeling soft and hydrated.
 Our Lavender Bath Bomb is topped with lavender buds. 
✓ 100% Natural
✓ Vegan 
✓ Free from synthetic, artificial colors and fragrances 
✓ No silicone or sulfates 
Size/Weight: 140 g / 5 oz