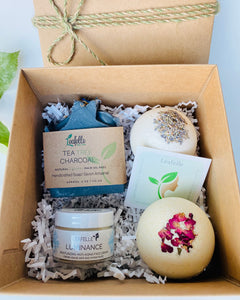 Show them your care or spoil yourself with this beautiful and luxurious gift set full of natural and eco friendly bath & body products. Packaged in a kraft paper box filled with crinkle paper, which includes:
- One 4 oz Tea Tree Charcoal Soap Bar.
- One 5 oz Geranium + Tangerine bath bomb topped with rose petals.
- One 5 oz Lavender bath bomb with lavender essential oil topped with lavender buds.
- One 30 ml Natural Moisturizing Face Cream.
All products are:
✓ 100% Natural
✓ Palm Oil Free
✓ Free From Synthetic Colours
✓ Vegan
✓ Eco-friendly
Enjoy our Gift Sets line of Leafelle Natural Beauty products 🤍