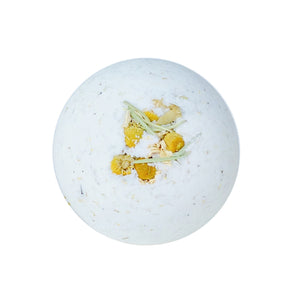 This Natural Bath Bomb is formulated to sooth and moisturize your skin while releasing the aromatherapy benefits of pure Rosemary essential oils for a luxurious and toxic free bath experience.
✓ 100% Natural
✓ Vegan 
✓ Free from synthetic, artificial colors and fragrances 
✓ No silicone or sulfates 
Your skin will be glowing and feeling soft and hydrated. 
Our Chamomile + Rosemary Bath Bomb is topped with organic chamomile flowers. 
Size/Weight: 140 g / 5 oz