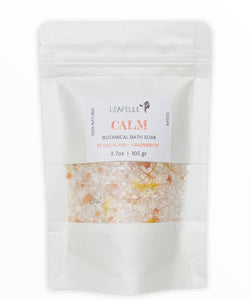 The perfect addition to your bathing ritual. Relax, soothe and soak tired muscles with our beautiful Botanical Bath Soak - CALM. Made with natural mineral rich pink Himalayan salt, sea salt, epsom salt, calendula petals and pure ylang ylang & grapefruit essential oils.
✓ 100% Natural
✓ Vegan 
✓ Free from synthetic, artificial colors and fragrances 
✓ Soothes dry or irritated skin with deep hydration
Benefits: Ylang Ylang essential oil has a positive effect on the mood, heighten your senses and develops a sense of creativity. Your skin will be nourished, hydrated and refreshed with additional detoxifying capabilities of Himalayan Pink Salt.
105 grams bath soak is good for about 2 baths.
To use simply add 1/2 of a bag to your bath, hop in and enjoy!