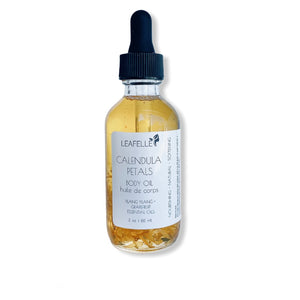 Calendula infused natural body oil is formulated to nourish and soothe your skin with a luxurious glowing effect right on time for the summer.

Enriched with a blend of Ylang Ylang and Pink Grapefruit essential oils in nourishing apricot kernel and coconut oil + vitamin E with organic calendula petals. Our Calendula Petals body oil absorbs quickly leaving your skin feeling soft, hydrated and luxurious. 

Massage into dry or damp skin and/or add 5 to 10 drops to your bath for a luxurious bathing experience.
Packaged in a 2oz (60ml) / 4 oz (120ml) reusable and eco-friendly glass bottle.

Ingredients:
Apricot Kernel Oil, Grapeseed Oil, Coconut Oil*, Ylang Ylang Essential Oil, Grapefruit Essential Oil, Tocopherol (Vitamin E), Calendula Petals*

*Certified Organic
**Store at room temperature.